So, in Part One of my musings on the Logan's Run film, I took a stab at answering a few questions concerning the world building and setting of the film if it were to be re-made or re-booted, as well as a few brief sentences about character adjustments to both Logan 5 and Francis 7, the two male leads from the '76 movie.
I want to talk more about them, but I want to address something more important to me in this post. In this second part, I want to start off by talking about the third character in the '76 film's main trio – Jessica 6.
PART TWO
Jessica 6 is one of only four speaking female roles in the 1976 adaptation of the Logan's Run story.
The other two on-screen roles appear briefly, one is a nameless Runner who is terminated in Cathedral and the other is Holly 13, an assistant to Doc at New You, a face/body alteration facility.
Both of these females are killed off having served their brief cameos and are no longer necessary to the rest of the narrative.
The fourth female part is only a voice-over, and serves as the vocals for the City's controlling AI. Coincidentally, the voice is provided by the same actress who portrayed the nameless Runner gunned down by Francis 7 in Cathedral, Lara Lindsay.
Jessica 6 appears at Logan's side for the majority of the film, yet is strictly a passive character. It might be generous to describe her as the moral compass of the film, but she is the one that talks about love, monogamy and wanting to know her birth parents. Other than this she only serves as a functionary to the Logan character. She either needs to be protected, saved or won as a trophy.
The problem with Jessica is she has no agency.
Agency in narrative terms is the freedom to act or live in the defined world of the story. To make decisions that affect the world and move the plot or story forward.
Narratively speaking, without Logan, Jessica wouldn't exist. She has no meaning except as an aid or burden to Logan's journey. She serves only as a first step toward his escape from the city, from then on she becomes what is supposed to be a partner for Logan, but does nothing else to drive the plot forward.
A wasted opportunity and a weak and belittling part for any actress, in this case the stunning Jenny Agutter.
In the reboot I envision, Jessica 6 takes on a much larger and much more feral and dangerous role.
In both the film and the novel, Jessica 6 is soft and secondary. In my version, she's neither of those things.
She's also a Sandman, and she would have a fuck-ton of Agency. She's the one pursuing Logan and Francis, she is the one who is going to kill all the unaccounted Runners and she is going to destroy Sanctuary.
At no point is she passive. She's cruel, feminine, gorgeous and a natural born killer. Like Francis 7 from the original film, she revels in the power she wields and enjoys the perks of the City with abandon.
The trick is to make her more than the Big Bad, however. She has to be a layered and an effective compliment to both Logan and Francis. She's not a femi-nazi or crazed. She's flawed. She's not conflicted, she's a zealot. She's privileged.
She benefits from the System, so the System must prevail, that's her through-line.
Jessica has goals. She wants to be the best, she seeks fame. And, as Sandmen always renew, she will become the most feared Sandman the City has ever known.
At the start of this new Logan's Run, Jessica would be seen gearing up, along with Francis and Logan to patrol the City for Runners.
And as posited in Part One of this exercise, we focus on The Gun.
In a world where all manner of firearms have been outlawed and confiscated, with only one group being authorized to use them… any time a Gun is seen, it should cause panic and fear.
We see Logan and friends, care for and reverence for this all-powerful weapon. Like many Sci-Fi tales, there is the inevitable element of Worship when it comes to the concept of Power, and who wields it.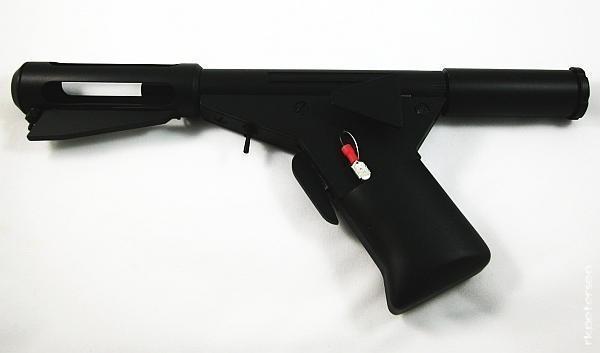 The Sandmen are priest-executioners of sorts, holy assassins tasked with erasing deviant Citizens. At least, that's how I'd pitch them.
They have special pavilions to live in, they train and study at Combat Temples and they participate in the production, maintenance and storage of the Sandman's primary weapon; there has to be a ritual associated with every aspect of The Gun.
The very opening of the movie should make this point crystal clear (no pun intended.)
Also posited in Part One of this exercise is that the City spans a great deal of land, almost all the continent of Eurasia – but it wouldn't be the pristine, plastic-color candy land from the '76 version. It's a vast urban sprawl that house billions of people who believe the outside world in uninhabitable. They live on top of one another, milling about through layered neighborhoods that range from crowded high-rises to opulent single dwelling penthouses… because even under the Dome, even after civilization surviving thousands of years after an ecological disaster, inequality and class still exists.
If it didn't, there would be no struggle, no conflict, and without those, you don't have story. And since wealth inequality and authoritative government is the zeitgeist right now – I'd take the opportunity to include that, as a mirror to today and a warning to the audience.
As far as the Art Design of my re-visioning of Logan's World, I see it as Dredd meets The Fifth Element meets Bladerunner 2049; colorful, but with a definite darkness.
The world needs to feel lived in, not the fabricated plastic falsity that is shown in the original Logan's Run movie. Film making has grown by leaps and bounds since I was thirteen. We as audiences expect a more sophisticated type of visual story telling.
In addition to the look of the film, the linear structure of the original story could, I think, use an overhaul as well. It's a too familiar, too staid or formulaic in presentation.
We meet the hero, content in his viewpoint of life, plodding along and then is confronted with a situation that alters that viewpoint, forces him on a path of violent change. Through skill, luck and perseverance, said hero overcomes adversity, triumphs and changes his society, supposedly for the better. It's the tried and true hero's quest we've seen a thousand times.
The trick of course is to provide the audience with something familiar but with enough of a twist that it seems new. So, instead of showing the world and our hero at the starting point where everything is calm, let's begin with chaos.
As stated earlier, the most important tool in a Sandman's arsenal against the deviants of society is The Gun.
So, we open on a shot of it. And it's in Jessica's hand. She's conducting a hunt in the middle of a crowded street in Arcade. The crowd parts fearfully, giving way to her as she stalks her prey.
DS Command is feeding her updated tracking info through an implant behind her ear, which also provides her with a virtual HUD that displays information on all the objects around her.
She moves confidently toward a structure, only to be surprised by a dark shape that throws itself at her from above, and the two of them go down in a heap, her gun spinning off across the tiled floor of Arcade.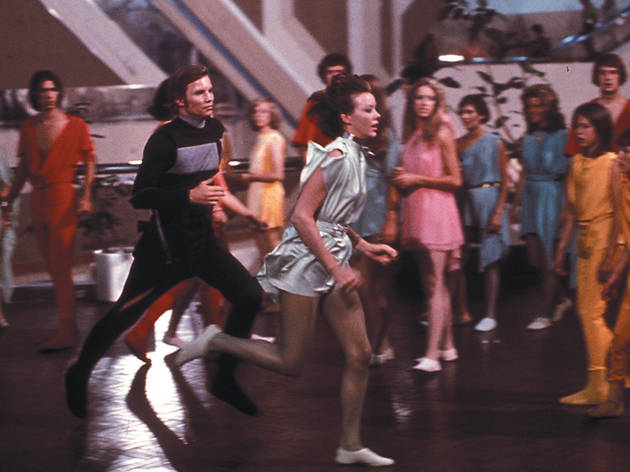 Pinning her to the ground is a man wearing similar garb, though dirty and torn, his face unshaven, his eyes wild.
This is Logan 5, her quarry.
"I'm still plugged in, Jess," he says. "You can hunt me, but I can hunt you."
The two then battle hand-to-hand, a vicious, brutal contest. At the mid point, before Jessica can retrieve her Gun, we see a random citizen go to pick it up, which results in a powerful blast that kills several bystanders and flings both Logan and Jessica apart.
The title sequence plays and then we rewind several weeks in time. To when Logan was still a Sandman in good standing.
To be continued…